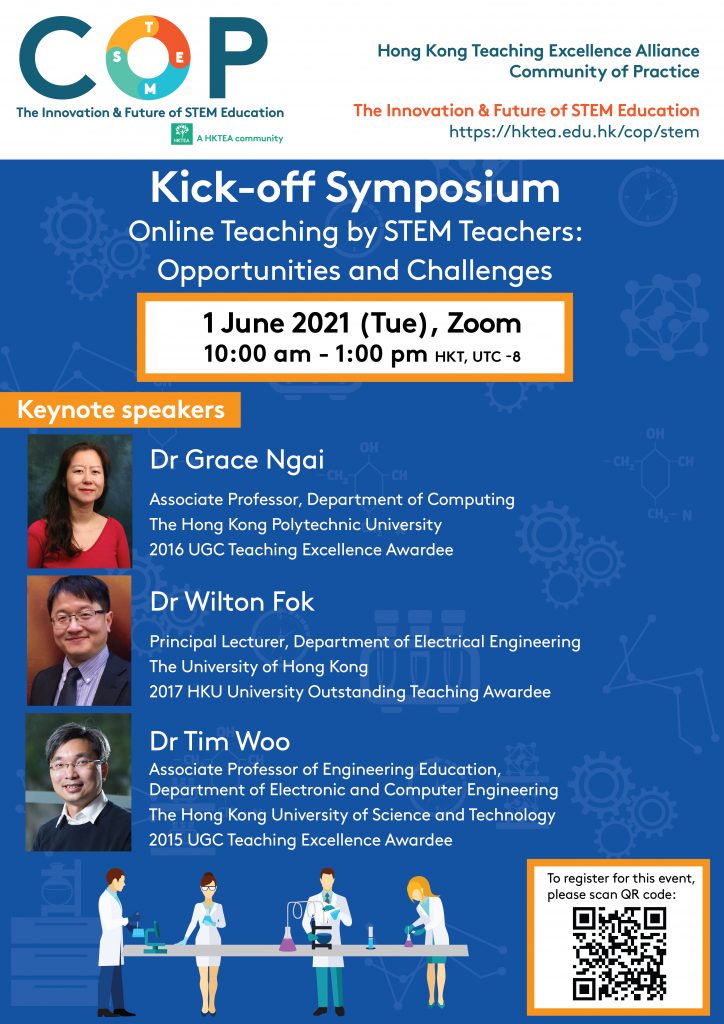 Date: 1 June 2021 (Tuesday)
Time: 10:00AM – 1:00PM (HKT)
Venue : via ZOOM
(University account log-in required)
You may experience difficulty registering using Internet Explorer. Please be advised to use the latest version of one of the supported browsers – Chrome, Firefox, Edge, Safari.
Schedule
10:00am-10:02am
Introduction to the Event by Dr Fridolin TING (PolyU), Leader of CoP
10:02am-10:05am
Welcoming Speech by Professor Isabella POON, Chair of HKTEA /Pro-Vice-Chancellor of CUHK
10:05 am- 10:15 am
Introduction and invitation to join the CoP by CoP Executive Committee members
10:15am-10:45am
Keynote address by Dr Grace Ngai (PolyU)
10:45am-11:15am
Keynote address by Dr Wilton Fok (HKU)
11:15am-11:45am
Keynote address by Dr Tim Woo (HKUST)
11:45am-12:00pm
Break
12:00pm- 12:30pm
Student sharing of online learning experiences during COVID-19 pandemic
12:30pm-1:00pm
Panel discussion: How can teaching excellence be maintained in on-line teaching?
Panel Moderator: Dr Kennedy Chan (HKU)
Keynote address by Dr Grace Ngai:

High-touch meets High-tech — when STEM service-learning goes online
Abstract:
STEM and service-learning complement each other. Not only is STEM education in and of itself a valued service, but STEM education can also be concretized into solutions that are valued by underserved communities. STEM and Service-Learning also share a commonality of being "high-touch" pedagogies, where hands-on learning activities such as laboratories (for STEM) and human interaction (for service-learning) are considered to be indispensable to student learning.

Because of this "high-touch" nature, the various lockdown and social distancing measures that were made necessary by the COVID-19 pandemic brought about challenges for both STEM education and service-learning. However, COVID-19 also created a vacuum into which technology can step in to play a much greater role in facilitating student learning. It catalysed the development of many innovative communications platforms, many of which could be leveraged for education and service, and opened up new avenues of opportunity and potential.

In this talk, Dr Ngai will share some of the innovative online STEM service-learning projects that we developed during the COVID-19 pandemic, and discuss some of the potential opportunities and challenges that we encountered.
Keynote address by Dr Wilton Fok:

Challenges and opportunities of STEM Education during the new normal
Abstract:
While many teachers and students are used to on-line learning and attend classes through zoom, many challenges have arisen. For example, students do not want to participate in the class, lack of interactions and field visits could not be arranged. Dr Fok will share his experience on using new technologies to cope with these challenges and introduce opportunities for innovative on-line teaching.
Keynote address by Dr Tim Woo:

Challenges and Opportunities: Promoting STEM education under the COVID-19 Pandemic of STEM Education during the new normal
Abstract:
The outbreak of Coronavirus Disease 2019 since early 2020 has posed extraordinary challenges in almost every part of the world. Even under such challenging conditions under the COVID-19 pandemic, undergraduate students at HKUST managed to gain valuable soft skills such as teamwork and leadership, through the competitions that they have participated in.
In this talk, Dr Woo will cover how the students contribute back to STEM education related activities through their newly learnt soft skills. Furthermore, he will describe the ways in which student learning can be supervised and empowered under COVID-19, with the HKUST Robotics Team as an example. Finally, he will also explore other opportunities relating to the development of STEM education related activities.